One in seven kids lives in hunger, while one in three are overweight or obese. We help kids focus in the classroom and make healthy choices by increasing access to healthy foods and nutrition education.
Sound nutrition is an established foundation for lifelong health: It promotes brain development, acts as a barrier to certain diseases, and positively affects mood and behaviors. Kids who are well-nourished are better able to pay attention in class and make responsible decisions.
But over 11 million children live in a food-insecure household—and that is only expected to grow due to the COVID-19 pandemic. Most U.S. children consume as much as half their daily calories at school, making schools a crucial piece of the nutrition puzzle. Unfortunately, many schools are not equipped to optimize federal school meal programs, address food insecurity, and provide kids and their families the necessary awareness, knowledge and skills they need to make healthy food choices. In fact, students receive less than eight hours per year of nutrition education, well below the 40-50 hours needed to affect behavior change.
Our NourishEd program is a comprehensive approach to nutrition education and improved food access that aims to improve children's health by increasing the demand for healthy food among families, students and schools, through student and family engagement, nutrition education and promotion, and district policies, systems and environments; as well as improving the supply of healthy food for kids in schools by increasing the capacity of families and schools working together (family-school partnerships) to ensure schools serve as nutrition hubs. The key components of the NourishEd program model include:
What is AFHK doing?
NourishEd is implemented as a part of our holistic family-school partnership model. We do this by:
How you can help:
Kids need us to be champions for their healthy development. Whether you're a parent or caregiver, educator, or invested community member, you can play a part in giving kids the nourishment they need to succeed.
Culturally Relevant Cooking Classes Inspire Kids' Creativity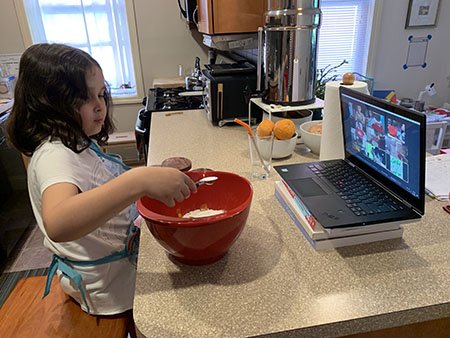 The COVID-19 pandemic caused PS 17's Wellness Council to change course, but the new online cooking classes helped kids get accustomed to trying new, healthy foods that they created themselves.
Read their story

Opens in new window
Get Inspired
For more articles about how schools and parents across the country have improved kids' health through access to healthy foods and nutrition education, view our success stories.
See successes